Choosing Your Zills
Brass finger cymbals, known as zills in Turkish belly dancing or "sagat" in Arabic belly dance, are a beautiful addition to your dance routine. Although originally played by the musicians for belly dance performers, the light, flashing accents at a dancers fingertips, adding accents to both the music and the movements of the dance, have become a symbol associated almost exclusively with the art of belly dance.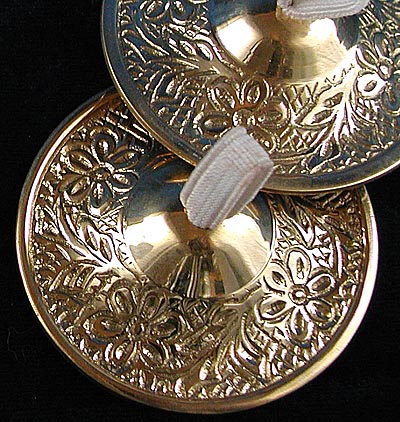 The right zills for you. You will find many styles, sizes, and shapes of zills available around the world, and it's difficult to tell by pictures alone if a particular pair of belly dance zills are right for you. I selected my first pair of zills at Rakkasah West in the early 90's after testing every pair I could find at the fair. The ones I finally settled on had just the right pitch and tone with a long, sweet sustain to their ring. They feel perfect on my fingers and are my favorite belly dance zills to this day. You can hear them for yourself below. Inevitably you will find that your final choice will be based on these two criteria, how they feel on your fingers and if the sound is right for you.
Think of zills as no more than flattened brass bells suspended from your fingers. The shape of the bell, width of the rim, thickness and quality of the brass will all affect the sound of the zills as they ring. Zills of identical shape and material will all sound unique - each pair of the embossed belly dance zills I currently carry has a slightly different tone. Belly dance zills with a deeper bell shape and thicker material will have a pronounced full ring with a long sustain due to the density of the brass, but their extra weight may be more difficult for a beginner to learn. Finger cymbals made of pressed brass sheet of varying thicknesses will have very little sustain but are light as a feather on your fingers. This may also make zill rhythms easier for a beginner to learn.
The elastic material used to fasten the zills to your fingers is also an important consideration. Before the production of rubber materials, simple leather or twine strands were used to tie the zills to the fingers. The zills you find today will have an elastic band or strap. Flat multi-strand elastic bands provide the best "grip" on the fingers for maximum control over the zills while playing. Round fabric covered elastic bands will slip around too easily and become hard to control. When fitting a pair of zills, you want the elastics tight enough to avoid slipping around on your fingers but loose enough not to cut off circulation to your fingertips.
I have collected a few of the most common shapes and materials of belly dance zills below. Although you can't feel them on your fingers, you can listen to the differences in sound and tone for each type of finger cymbal.
Please note: the sounds below do not represent examples of rhythms and are for samples of the sound of the zills only.
Learning to play zills. Working with zills in your belly dance routine is a topic for another article. Soon to be published on this web site, "Learning the Art of the Zills."
Other Articles
© 2004-2021 Zarifa's Touch of Egypt, all rights reserved
---
Zarifa's Touch of Egypt · Boise, Idaho 83646 · Contact